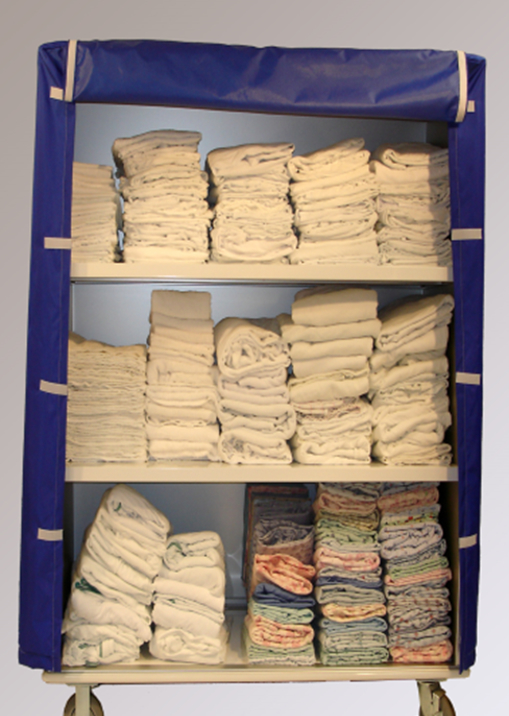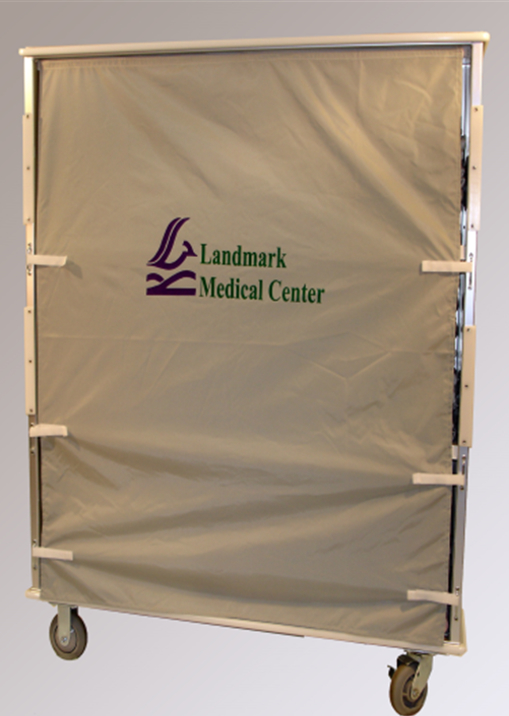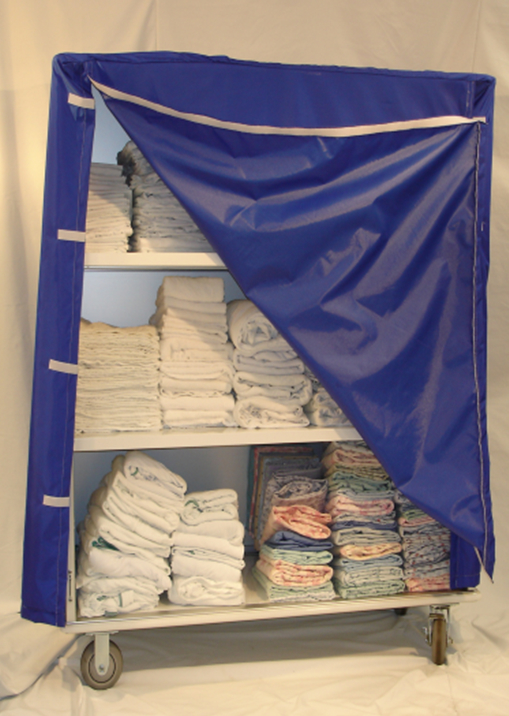 Industrial & Commercial-Use Laundry Carts & Covers
---
Cart Covers & Custom Linen
Industrial Bag & Specialties believes in a team approach. We believe that it is over mission to produce high quality products delivered at the best price possible. Our Cart Covers are made uniquely with durability and reinforced corners for long lasting use. We can make your Cart Covers with Velcro or zipper closures. This allows your Cart Covers to be securely closed.
Our Cart Covers are made with the finest fabric quality such as 420 Denier Nylon, Sure-check, and Cordura. We can also place a pocket on the cover if needed for your best use. Our tailoring is designed with our customs unique uses specifically in mind.
When you need high quality, price competitive Cart Covers think of Industrial Bag & Specialties, Inc. Our products are made in the U.S.A and we are Veteran-Owned Company. We look forward to assisting you with your business needs.
You can fax your order to 248-559-5559 or give us a call at 800.334.9695 and we'll be happy to help you.
Laundry Carts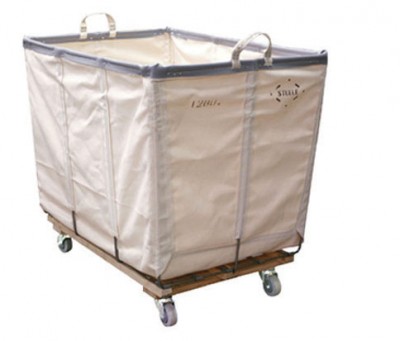 Permanent and Removable Style Trucks
ďż˝
Wood Covered Trucks
Our lockable Wood Covered Hampers are used daily in a number of different environments where discretion, durability & security are a must. Â The smooth, lacquered wood cover makes this unit not only ideal for storing tools & equipment but also as a movable work station. Â In an effort to save on shipping costs, we now offer wood covers in a removable style. Â Custom sizes & lid configurations are available upon request.
Elevated Style Trucks
Elevated Trucks are available with either a removable or permanent liner. All sizes come standard with 2" stem casters. 3" stem casters available upon request.
Replacement Liners
Replacement Liners are available to fit most of our standard baskets & trucks. Choose from our durable white canvas or tear & water resistant Steeletex, which is available in a variety of colors.
Steele Bag Holders
Our Bag & Net Holders come in small (18L x 12W x 35H) and large (18L x 18W x 35H) sizes & are offered in plain or plated steel. Each size is also available with or without bags (canvas or denier nylon), stem casters, wood runners or polyethylene covers. Call or e-mail for more details regarding custom options & sizes.
Light Weight Liners &Â Caps
Steele Canvas offers a variety of Caps & Liners to fit most of our standard size trucks. Caps come with elastic in the hem and are made in either 200 Denier White Nylon or 10oz White Vinyl-Coated Nylon. Liners are made in 200 Denier White Nylon and are offered both with or without flaps. Caps & liners also fit our polyethylene carts.
Spring Lift Platforms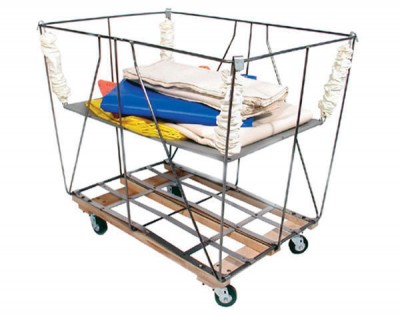 When ergonomics is an issue, our Spring Lift Platforms are the answer! Specifically designed to lower contents during the loading process while slowly raising them when unloading. Our platforms can be custom made to fit just about any size or style truck, bin or basket.
Accessories
Push & Pull Handles are a simple yet effective back saving tool that eliminates awkward bending when pushing or pulling heavy loads. Easy to clean & a cinch to install they are an ergonomic must. Handles are available for either Canvas/Steeletex or Polyethylene baskets.
Polyethylene Bulk Trucks
Thick rotationally molded polyethylene. Â Unless otherwise specified standard color is white & standard caster arrangement is 4 swivel in the corners.
Hospital Style Trucks
Our Hospital Type Trucks come standard in a 100% rust proof galvanized steel frame and are available in 2 thicknesses: .100" (#602) & .150" (#602B). Standard color is white & standard caster arrangement is 4 swivel on the corners.  Call for color & caster options.  Available with both 200 Denier Nylon & 10oz Vinyl cap covers.
Steeles Lil and Big Tigers
Tigers are available with or without covers (please specify) and come standard with a rustproof galvanized steel dolly on 2" TPR stem casters.  Our Tigers can ship UPS, making them a great alternative to some of our larger products.
Poly Transport Trucks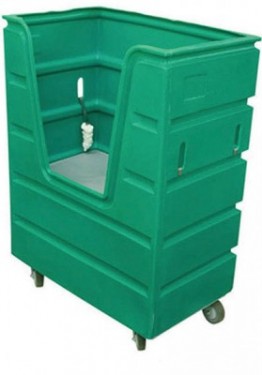 Our Polyethylene Transport Transport Trucks are perfect for hotel & hospital laundries, providing the capacity of 2 x 16 bu trucks in 1/2 the space! Â Options include 10oz Steeletex caps, security covers & spring lift platforms. Please specify color & caster arrangement.
Tilt-Dump Trucks
Tilt Dump Trucks are available in both light duty (1/2 yd & 1 yd only) and heavy duty. Their one piece, smooth & seamless body make them ideal for collecting, hauling & dumping material in a clean, safe & dependable manner. Â Standard color for our 1/2, 1 & 1 3/4 yd trucks is blue. Â Standard color for our 2 & 2 1/2 yd trucks is grey.
Poly Turnabout Trucks
Available in a variety of sizes & with removable chrome plated shelves,our Turnabout Trucks are ideal for clean or soiled linen. Â Options include 10oz Steeletex caps, security covers & Spring Lift Platforms. Please specify color & caster arrangement.
Poly Flare Trucks
Poly Flare Trucks are ideal for moving & storing bulky items & uniquely designed for easy loading & unloading. Â With their ribbed single-mold design & steel reinforced sides, these trucks handle the toughest loads with ease & accessibility. Â Please specify color & caster arrangement.
Accessories
+ Spring lift platforms are available for most of our polyethylene products & are an inexpensive & efficient way to reduce back in-juries & worker fatigue. Call or e-mail for more details.
+ Push & Pull Handles not only eliminate bending fatigue but also make pushing full trucks less of an effort. Available for both Canvas/Steeletex (#PPO3) and Polyethylene trucks (#PPO4).
+ Hinged poly covers are available for 12, 14 & 16 bushel polyethylene trucks & liners.
+ Optional 18oz grey vinyl-coated nylon cap w/ elastic in the hem is available for all our Tilt Dump sizes.